Willowbrooke Farm offers half day and full day Summer Camp for riders at all levels, ages 6-16. (ages 6-7to be 1/2 day only unless they director permission)

Under the direction of Jennifer Blades,USHJA certified trainer and Coach of the U of M Equestrian Team, you can come and have an entire week of learning and fun filled experiences. Our camp is focused on developing riding skills. Most of camp time is spent riding, and with the horses!

Riders are split into camp groups according to level and age, to maximize one on one learning with their camp counselors. Ride groups are generally 6-10 riders per group, and our experienced team of camp counselors give instruction according to rider level. Riders at our camp are sure to gain new and valuable riding skills whether it is their first time on a horse, or they are already jumping courses.
With over 20 school horses, we offer a horse for every level, from retired A circuit show horses, fun beginner ponies, to horses currently showing on the show circuit. Many of our camp horses train with the University of Michigan Equestrian Team members in the winter months, so they are fit and ready to have fun in summer camp.
Riders finish their camp week out with a small horse show/exhibition on Friday for family and friends.

This year we are excited to offer two 1-day Thanksgiving camps (Nov 24th and Nov 25th) as well as a 3 day Winter Christmas camp (Dec 27-29).
Please click here for more information on the Thanksgiving camps!
Please click here for more information on the Winter Christmas camp!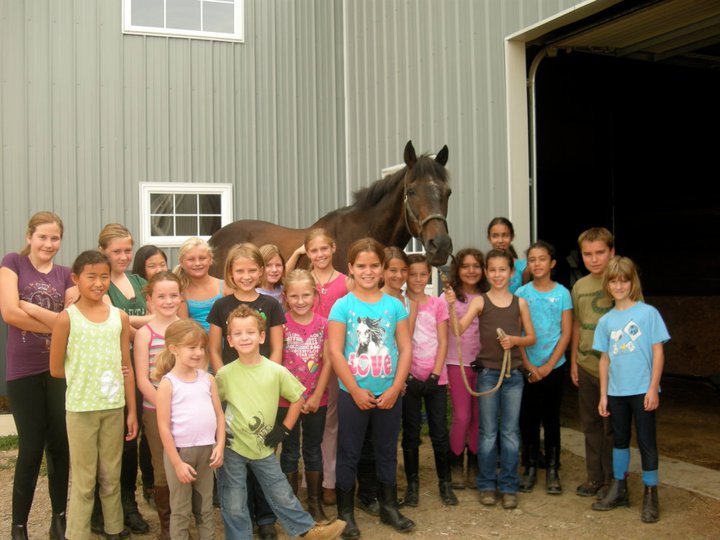 Equipment needed for a safe and fun camp experience-
1. A riding style boot with a heel - google "paddock boot" to get an idea of correct footwear. (Cowboy type boots are also fine to start riding in) generally parents have been able to find excellent riding type boots in discount shoe stores. We can also give local tack store recommendations such as Sporthorse Saddlery, and Wyldewood Tack Shop. Or online sources such as http://www.doversaddlery.com and smartpakequine.com
2. Long pants and tall socks (to prevent saddle rubs)
3. An ASTM/SEI Approved riding helmet (helmets are available at no charge to riders if they do not yet have their own)
Activities include:
English Riding

Indoor and Outdoor Facilities available.

Two one hour lessons per day for full day appropriate to age and skill level
One lesson per day for 1/2 day camp
from beginner to advanced jump.

Knowledge and Care of Equipment
Knowledge and Care of Horse
Anatomy, breeds, coloring and markings
Grooming

Educational Videos
Games, Arts and Crafts
2024 SUMMER CAMP REGISTRATION FORM


Riders must have a liabilty formed signed by a parent in order to ride